American Furniture Classics 840 4 Gun Wall Rack, Medium Brown Review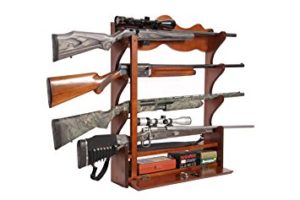 This beauty of an gun rack looks perfect for displaying and storing your hunting rifles and shotguns on. Featuring solid wood and wood veneers, it is fully locking and even has an ammunition storage compartment in the bottom of the rack. It measures 24 x 5.5 x 32 inches and can hold pretty much any long variety gun you have.
Like it already? Click here to order it today at Amazon!
One Gun Rack To Fit Them All
By any variety, I mean it. You can fit AR-15 type weapons, pump-action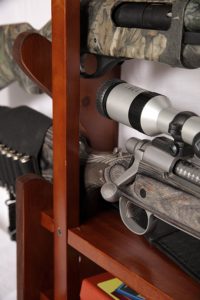 shotguns, AK style rifles and shotguns. We haven't tested it with bulpup configuration rifles and shotguns but they should fit just fine as well.
No backboard is included, which can be a blessing or a curse depending on your needs or taste. For us, backboards just put more weight on the structure. So you're probably better off without one anyway.
Despite the usage of the term "American" in the name, it is made in Vietnam. Despite this, the quality is very nice, and it is well made.
One of the few drawbacks is that the included screws probably won't do the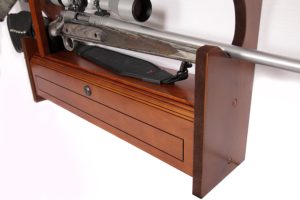 job for mounting, meaning you need to have either sheetrock anchors or four 2 1/4″ L wood screws, (size #8).
Likewise, there isn't any padding on the racks, so if that's something you need or want in a gun rack, you won't find it here.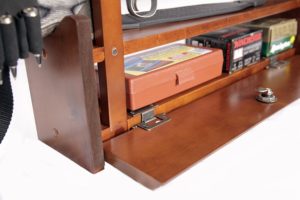 In all, it's a pretty nice and sturdy rack that will hold pretty much any rifle or long shotgun. Heck, it can even be used for swords, martial arts practice equipment, and long sports equipment. At the time of writing this it's a little over $47 bucks at Amazon, so it's a steal for what you get.
Design 3/5: Well designed, attractive and sturdy, it get's the job done but isn't what you would call decorative.
Value 5/5: For the quality it provides, it is worth far more than what it goes for, so you get a real bang for your buck.
Overall 4/5: I wholeheartedly recommend this gun rack if you just want a utilitarian storage rack for a small collection of sporting guns. If you want something to display a collection on however, or have a large collection of weapons to display, you may want to look at other options. With that said, you can get it at Amazon today by clicking here.